2022 SHOW HIGHLIGHTS
Day One: Enhanced in-mold labeling design options on display from Sanwa Screen
Sanwa Screen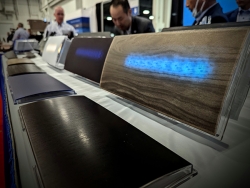 In Novi, Sanwa Screen is showing expo visitors just some of the infinite in-mold labeling (IML) designs it can print with fine expression screen printing (FESP). IML designs can be unique and will often use shared tooling by only changing the printing specifications, allowing an OEM to use a wide range of different patterns and colors. IML allows for the familiarity of touchscreens in automotive, appliances, entertainment and many other industries.

Alex Toda, sales, Sanwa Screen, revealed at Automotive Interiors Expo, "The options are infinite. If we can print the wood grain/marble/3D design, it can be made with the FESP. Automobiles are becoming lighter to help improve gas mileage so, with FESP wood grain design, the design of the automobile can still have the elegant look of wood. We have two options for FESP, front side or back side printing. Front side can have a texture feel so if the design intent is wood grain or leather, we can achieve this with FESP."

Sanwa Screen prints on films instead of rolls so the setup and minimum order quantity are lower than those offered by film roll suppliers. Many different designs and texts can be printed by changing the stencils, with the only additional tooling being the stencils themselves, so no additional tooling is needed to make the different designs. Light, medium or dark patterns are possible – Sanwa Screen can match any color requested.

Toda commented, "The trend of recent automobiles is to have designed panels around the dash, center stack and door trims. Automotive Interiors Expo is the perfect place to meet OEMs and Tier 1s that are looking for unique design options that will allow their automobile to stand out. We are hoping to meet a wide range of OEMs and Tier 1s that have an interest in enhancing the design opportunities."

Eiichiro Goto, president of Sanwa Screen, said of the company, "Sanwa is a leading company in decoration technology, which is used to screen print and apply paint onto molded material. We are committed to being the bridge that connects new technologies with the people who will use them. We want to accomplish whatever fulfills the customer's desire and respond to 100% of their needs. This 'considerate manufacturing' will create new wonders and allow us to continue contributing to society in the future."

Sanwa Screen is exhibiting on Booth A118.