2022 SHOW HIGHLIGHTS
Day One: JBC Technologies exhibits multilayer, targeted protection against unwanted heat and noise
JBC Technologies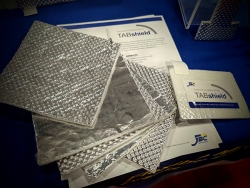 JBC Technologies has come to Novi to showcase TABshield, a lightweight alternative to traditional metal heat shields. According to Kate Gluck, vice president of business development at JBC Technologies, it is easy to install with peel-and-stick backing, is conformable to most shapes, can be cut to shape for various targeted noise and heat suppression applications and is available in sheets and rolls or can be die-cut to your specification. It also meets Ford Specification WSS-M99P32-E6.

"A car heat shield is essential to protect critical components and expensive bodywork from heat damage," explained Gluck. "The heat given off by the engine and exhaust can reduce engine performance, increase the temperature in the passenger car cabin, damage mechanical parts and even reduce the expected life of your paint job. Excess heat can also impact the performance of the HVAC system by causing it to work harder than necessary to cool down a hot cabin."

TABshield is made by laminating various performance materials to form a composite, multilayer final product. If a customer requires embossing or microperforating, these are done in separate steps. JBC can also die-cut custom parts.

Utilizing thin, lightweight materials in its construction, TABshield provides multilayer, targeted protection against unwanted heat and noise while minimizing excess weight (average TAB210E material weight is 44oz/square yard [1,500g/m2]). In addition, it has thin foil facing and a light PET insulation core, reflects heat, absorbs noise, installs with adhesive backing instead of heavy mechanical fasteners such as screws and rivets and can be cut to shape and put where you need it. It also minimizes wasted material.

JBC's TABshield patches can be customized to the customer's noise and heat shielding requirements. Advantages include optional adhesive backing, liner pull tabs for easier removal before installation, foil embossing for better formability, foil microperforating for improved acoustical performance, different metal foil facing thicknesses (up to 10 mil), customizable insulating core, high-temperature PSA backing or low surface energy PSA backing and die-cutting into custom shapes based on customer designs.

Gluck explained, "At JBC Technologies we provide a number of different solutions to the automotive interiors market, from solutions to stop buzz squeak and rattle and eliminate noise, vibration and harshness, to thermal management and bonding of interior electronics – to heat shielding."

TABshield is on display at Booth A116.