2022 SHOW HIGHLIGHTS
Day One: Modular digital cutters on display from Zünd America
Zund America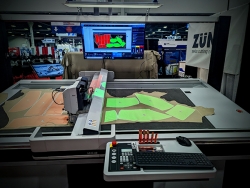 At this year's show, Zünd America's digital cutting experts are looking forward to discussing individual production needs and digital environments with attendees and showing them ways to increase their production efficiencies well beyond cutting.

Beatrice Drury, marketing and communications manager at Zünd America, said, "Modularity is truly the hallmark of the Zünd brand of cutters, enabling customers to purchase the machine configurations and workflow solutions that best meet their needs while keeping in mind they will always be able to upgrade and expand their systems later on, as their needs change and grow."

The same modularity applies to Zünd's hardware components, such as tools, modules and material handling automation, as well as to software and application-specific digital production workflows.

Drury continued, "With the latest Mind and Zünd Cut Center workflow releases, Zünd cutters can be configured as turnkey systems capable of handling all the challenges automotive applications may bring with them – from material/hide capture to interactive/automatic nesting, pattern matching, projection guided picking/sorting, web-based product/process management and more."

Drury concluded, "We are thrilled to be back in Novi for Automotive Interiors Expo. With proximity to so many manufacturers in the automotive industry, we look forward to having an opportunity to meet with customers looking to automate their workflows and benefit from the many customizable solutions Zünd offers".

Meet Zünd America's digital cutting experts at Booth A124.