2022 SHOW HIGHLIGHTS
Day One: BASF displays solutions for specialty finishes and plastic compounding
BASF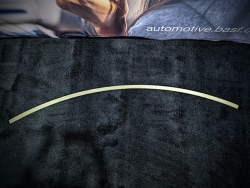 BASF is showcasing several of its solutions at this year's Automotive Interior Expo: spray transfer molding, Ultramid Deep Gloss and Cellasto Solutions.

In an interview on Day 1, Jeff Hagar, BASF's marketing segment manager for interiors in automotive NA, spoke about the solutions on show: "Spray transfer molding is a fast and efficient process to manufacture lightweight composite materials. The first 60-90 seconds of the process is where the fabric is impregnated outside the mold using a high-pressure spray process and then molded in a compression press. The process is designed to scale from initial ideation and experiments to actual automotive production components. The benefit of this technology is the use of sustainable materials with a high content of bio-renewable content.

"The process has a high throughput – our low demolding times are the best on the market – and we can optimize our design to match OEM specifications. We also offer superior technical support plus an open lab facility for prototype production. Production applications for automotive include door interiors, armrests, load floors, sunshades, hatchbacks and package shelves."

Ultramid Deep Gloss is BASF's specialty polyamide for highly glossy components in automotive interiors. It shows a balanced property profile for components that are high gloss and yet at the same time scratch resistant without any coating, offering a high gloss level, excellent resistance to scratching, high chemical resistance, low emissions and good UV resistance. Ultramid Deep Gloss reproduces structures true to detail, providing designers with new opportunities to combine unusual textures to meet the requirements for automotive interiors. Hagar commented, "It is the ideal material for decorative trims, display edgings, decorative panels around lights, storage racks in headliners, functional components, air vents and inlays in car doors or center consoles."

BASF's third solution, Cellasto, is a components series that delivers superior NVH reduction. Hagar explained, "Lightweight and durable, Cellasto will deliver better NVH performance for the lifetime of your vehicle with less expense. In all environmental conditions, this customizable material offers superior vibration isolation and friction damping in your design solutions and can be widely used in electric motor isolation, passenger seating, armrests, gloveboxes, console dampers and infotainment system displays."

"Automotive Interiors Expo is important for us to present BASF´s innovative solutions in the automotive interior industry for people in procurement, interior designers and Tier 1 or 2 component manufacturers. We are the leader in specialty finishes and plastic compounding for interiors, so it is a great forum".

Visit Booth A112 to learn more.