2022 SHOW HIGHLIGHTS
Day One: Taiyo reveals sustainable, decorative chrome-free plating
Taiyo Technology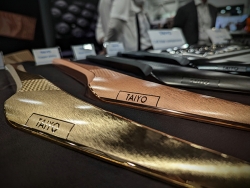 Taiyo Technology is showing Automotive Interiors Expo visitors samples of its latest Chrome VI-free plating technology and talking about the evolving experience of the cars of tomorrow. According to Azeem Hamaradeen, the company's general manager, decorative chrome plating continues to be the coating of choice as there is no substitution for real metal finishing applications. Demand for chrome's bright and lustrous finish continues to grow despite competition from other similar finishes.

"Chromium has withstood the competitive challenges due to its unmatched aesthetics as well as its superior technical capabilities," Azeem explained live at the expo.

Engineering professional Paul Uglum, formerly at Delphi Electronics and Safety, concurred. "The only reason to decorate or modify plastics is to add value. That value can be in the form of function and/or by increasing the desirability of the product to customers."

Taiyo has a history of expertise in electroplating, from initial tool design to production and additional support. Working with its business partners, Taiyo creates beautiful and unique parts mostly found in switches, modules, integrated center panels and decorative trims.

Hamaradeen continued, "As the industry continues to enhance the passenger experience with new technologies, it is only fitting that the aesthetics also continue to evolve. Designers are constantly looking for new inspirations and techniques to manifest their ideas into reality, and Taiyo's newest textured surface and colorized chromes are our latest answers to the future of automotive interiors."

In line with the EU REACH directive, Taiyo has developed its Chrome VI-free plating line to cater to environmental regulations and move toward sustainable development goals.

Visit Booth A528 to learn more.