2022 SHOW HIGHLIGHTS
Day One: AGC Glass showcases glass surface enhancement and shaping solutions
AGC Glass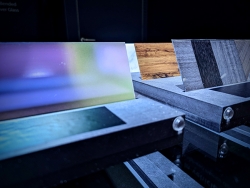 AGC Glass is emphasizing its harmonious combination of aesthetics, functions and ergonomics at this year's Automotive Interiors Expo, presenting its door panel demonstrator.

"Because cockpits are more and more customizable and user-centric, considerations about style and user experience take over the way those are thought about," explained César Colombo, from AGC Glass's marketing and communication department, live at the expo. "However, design constraints are more and more considered by OEMs and Tiers 1s, leading to innovative developments in terms of material usage and ergonomics. That's why designers and engineers are leading the way towards more functionalization over smart surfaces that can adapt easily whether a complex shape or texture is involved. Therefore, the right balance has to be defined to align with current trends and future ones.

"Glass, in its thinnest configuration as Feellnglass allows it to be, is a lightweight and durable material that can adapt easily in terms of shape and design," Columbo continued. "Indeed, it can integrate sensors, lighting and haptic feedback to make it more responsive as well as being versatile and capable of enhancing cockpits through sight and touch. Also, sustainable materials like glass are needed to overcome challenges linked to environmental constraints. We value our glass solutions through their durability and circularity."

FeelInGlass has developed unique glass processing capabilities to rationalize the production and transformation of chemically tempered glass. The whole supply chain is monitored, from the production of the glass to the delivery to the customer. In this, FeellnGlass has been addressing market demand related to custom and innovative design, linked to a growing interest from OEMs and Tier 1s, as Columbo explained, "By combining our expertise in cover glass for displays with an emerging trend in decorative glass for interiors linked to mobility, we realized that we could bridge a gap in integrating more added value in our developments and expand decorative glass in cockpits, firstly though display applications. Since our portfolio is traditionally oriented toward coatings for display cover glass (anti-glare, anti-reflective and anti-fingerprints treatments), we developed more solutions to enhance the glass surface and shape it harmoniously within automotive interiors. We are developing solutions for passive decorative trims as well as to better integrate active functions such as lighting and HMI systems with the idea [of blending] them seamlessly into the passive areas."

As interior designers are seeking more stylish and sustainable materials, FeellnGlass offers color material finish [CMF] designers and design studios a dedicated co-creation service to provide them with its expertise in glass conception. FeellnGlass accompanies them through the different stages of development, assessing the feasibility of their design, testing prototyping series and exploring the possibility of scaling to mass production. Together, these processes are an entry door to breakthrough advances in glass integration within interiors.

"As we exhibited for the first time at the European edition of the show in 2021 in Stuttgart, we wanted to expand our scope to the US and be present at both shows in 2022," Columbo said. "We are exhibiting alongside our colleagues from AGC Americas, who are also present on the booth to support us and to promote a unique collaboration. Through our partnership, we expect to meet key stakeholders of the US automotive market ranging from OEMs to Tier 1 and Tier 2 suppliers, as well as design studios and CMFs to introduce our vision of glass for automotive cockpits."

FeellnGlass is exhibiting on Booth A416.