2022 SHOW HIGHLIGHTS
Day Two: Niebling showcases trends in high-pressure forming for FIM
Niebling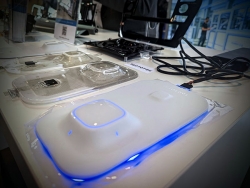 In a live interview during the show, Douglas Gray, senior sales manager APAC at Niebling, spoke about the Film Insert Molding (FIM) process that the company is showing to visitors.
---
Day Two: Ash & Lacy presents its new photo-etching line capabilities
Ash & Lacy Automotive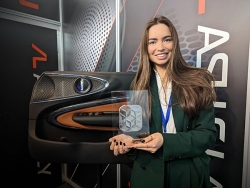 Ash & Lacy Automotive's Emily Evans, who gave a presentation on Tuesday afternoon titled Trends in vehicle audio – materials, aesthetics, finishes and supply, has been sharing what the company is displaying on the exhibition floor.
---
Day Two: Ionbond highlights benefits of decorative PVD coatings for interiors and exteriors
Ionbond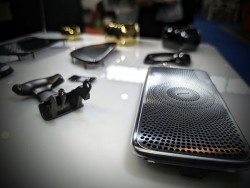 Ionbond is showcasing its decorative PVD (physical vapor deposition) coatings in several colors – including gold, nickel, chrome and black – on automotive interior and exterior parts.
---
Day Two: Taiyo showcases advances in electroplating for future interiors
Taiyo Soft Singapore Pte Ltd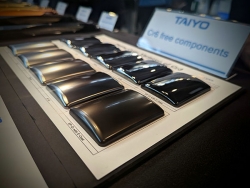 Taiyo Soft Singapore is displaying its innovative decorative plating on plastics for interior parts in Stuttgart.
---
Day Two: FeelInGlass unveils 'touch and feel' glass developments for future cockpits
FeelInGlass by AGC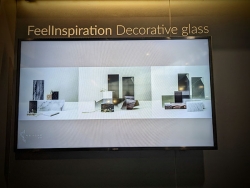 In Stuttgart, FeelInGlass by AGC is introducing a return to its roots. "Having experienced an insightful show last year, we wanted to introduce visitors to the whole characteristics of glass and demonstrate that it is an asset for interior applications," said César Colombo, from AGC's marketing and communications department.
---
Day Two: Forvia presentation | Personalized interior lighting to enhance UX and avoid cognitive overload
Forvia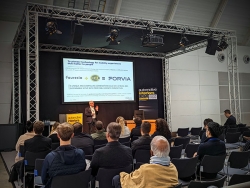 On Wednesday morning, Forvia technical director James Gourlay gave a presentation titled Personalized interior lighting to enhance user experience and avoid cognitive overload.
---
Day Two: TG0 showcases touch-sensing tech for HMIs
TG0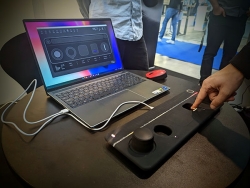 TG0 is in Stuttgart to demonstrate its patented touch-sensing technology and its benefits for automotive HMIs.
---
Day Two: Grewus presentation | Integration of active haptic feedback in HMI
Grewus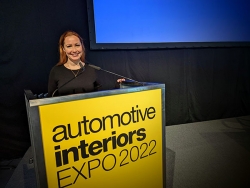 This afternoon at 2pm, Grewus managing director Elisa Santella will give a presentation titled Integration of active haptic feedback in automotive HMI systems. Santella revealed more about the topic in an interview ahead of her presentation.

---
Day One: McLaren Automotive reveals how thoughtful interior design creates the ultimate driver experience
McLaren Automotive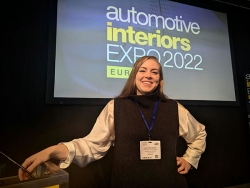 In a highly anticipated presentation on the Technology Presentation Stage on Day 1 of Automotive Interiors Expo in Stuttgart, McLaren Automotive's senior color and materials designer, Liza Christensen, shared the company's unique vision for Elva, its lightest road car to date.
---
Day One: Arzuffi shows its value-adding sputtering coatings
Arzuffi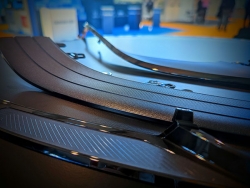 Throughout the three-day expo, Arzuffi is showcasing coated samples that reflect the latest automotive trends. "Plastic substrates (ABS, PC, PC/ABS, PP, etc) with a chrome look are giving the substrate added value, from several standpoints including the environment, aesthetics, functionality and productivity," said Mara Arzuffi, who works in business development at Arzuffi.
---
Day One: Conductive Transfers demonstrates matrix pressure sensing and capacitive touch
Conductive Transfers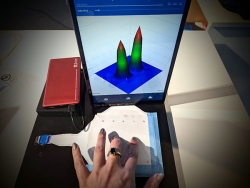 Conductive Transfers is showcasing its new ElastaSens matrix pressure sensing technology. This screen-printed technology enables thin, lightweight and cost-effective pressure map sensing solutions for seat occupancy detection and other automotive applications.
---
Day One: ORV Manufacturing presents its ultralight sound absorbers
ORV Manufacturing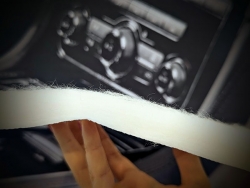 ORV is showing its innovative sound-absorbing products, suitable for trucks and cars. "Our company believes that taking part in this expo can be the best opportunity to get in touch with new prospects, in particular Tier 1 suppliers, to which ORV can supply its new products for nonwoven car components," said Alvise Bertoncello, the company's sales director.
---
Day One: Sefar exhibits heating fabric that enables new methods of integration
Sefar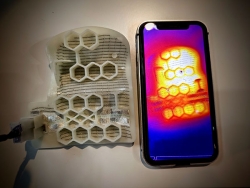 Sefar is showing samples of heating fabric that can be integrated into injection molding, foaming, NFPP or laminating for automotive interiors.
---
Day One: Egas Consulting shows innovative 3D leather thermoforming process
Egas Consulting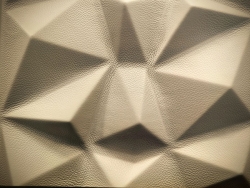 Egas Consulting is in Stuttgart to display its patented Pelle3D (3D Leather) process with several samples of leather interior parts that can be prepared using the leather thermoforming process, including door panels, front header and headrest, demonstrating the potential of this new technology.
---
Day One: Armacell displays innovative PET foam solutions based on 100% recycled plastics
Armacell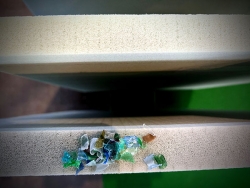 At Armacell's booth, the company is showcasing its innovative range of the world's first PET foam solutions for the automotive industry based on 100% recycled plastics.
---
Day One: Covestro showcases the latest interior automotive trends
Covestro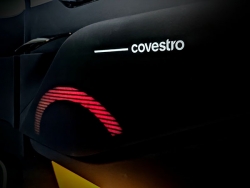 Covestro is showcasing the latest interior automotive trends, including a new roll-up sunroof shade concept, the Nighthawk demonstrator, a drop-in material solution with reduced carbon footprint, and a brand-new concept door panel and dashboard.
---
With the rise of environmental awareness and increasing labor shortages, automated production is taking center stage. San Fang, one of the largest artificial leather suppliers, has introduced materials that meet the requirements of various automotive processes.
---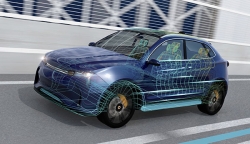 Filc is presenting a broad portfolio of high-performance materials for vehicle interiors: acoustic pads, cargo screens, decorative materials, seating, carpet backing, underbody shields and wheel arches.
---
Haptic surfaces, additive masterbatch and Plexiglas molding
Grafe Advanced Polymers GmbH
Grafe will showcase high-quality looks for haptic surfaces, additive masterbatch to save energy in the production process, and customized solutions with Plexiglas molding compounds.
---
Sustainable automotive skins
Walki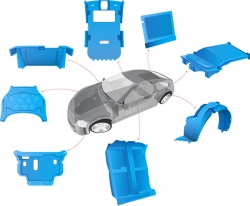 Walki is leading the way for sustainable, high-performance laminates.
---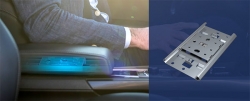 Thomas Regout International's Horizontal Armrest Slide (HAS) is a telescopic slide with a single extension of 75% developed for the mid console of cars.
---
Capacitive touch sensing
TG0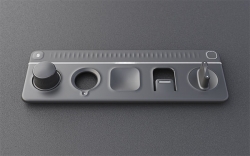 Dynamic, London-based tech company TG0 is a hot topic in the auto industry due to its advancements in human-machine interface technology, including its patented technology that turns everyday conductive or industrial polymer materials into touch- and pressure-sensitive surfaces.
---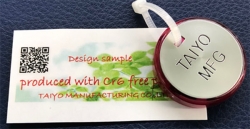 In recent years, new technologies friendly to human health and the environment have attracted attention in various fields.
---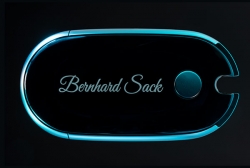 The demands on a car key are higher than those applied to the interior of a car. Some of the challenges that a key faces in everyday life include rain or even falling on a concrete floor.
---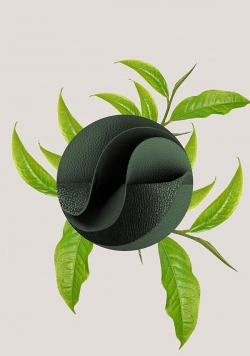 Scays Group has innovated several materials and worked hand in hand with elite universities. It has a ScaysLab department in three universities and supports research in the field of sustainability.
---
Carbon-free, non-conductive black for printed electronics
Pröll GmbH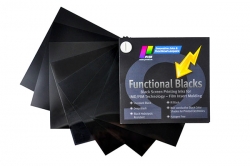 Pröll's core business is the development of custom-made chemical products for coating/decorating plastics and other materials, as well as innovative ink systems for IMD/FIM technology, and screen and pad printing inks.
---
RGB-LED light bars for color-true displays
Polycontact AG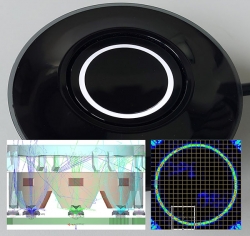 Visit Polycontact's booth to explore various new implementations of RGB-LED light bars for functional interior lighting.
---
Precise high-pressure forming
Niebling GmbH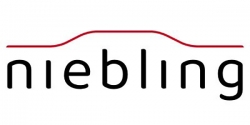 Niebling GmbH, a Germany-based manufacturer of high-pressure forming equipment and tooling, will present its latest development for XXL forming of films for the automotive supplier industry, mainly used in the film insert molding (FIM) process.
---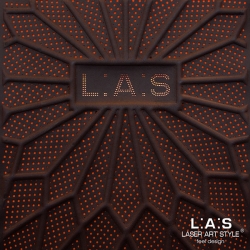 L.A.S. will present cutting-edge products and processing techniques that have never been seen before. Laser versatility can process even complex parts efficiently, accurately and cleanly.
---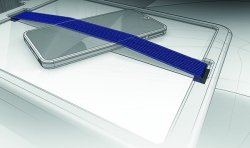 Today, the interior of a vehicle is a mobile communication and living space. Smartphones and other technologies must always be within easy reach, neatly stored and securely fastened.
---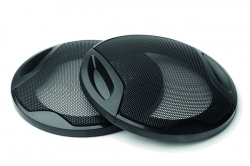 Glossy, deep-black paint has been a tried-and-true style differentiator for centuries. Now it is available as an Ionbond Decobond physical vapor deposition (PVD) coating.
---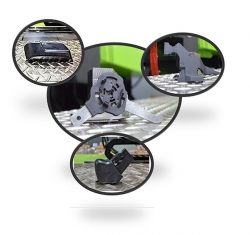 House of Mold is a reliable partner for technical interior parts. The company specializes in seat systems, high-precision tools and over-molded parts.
---
Advanced composite lightweighting materials
Hanwha Azdel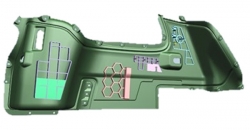 Visit Hanwha Azdel's booth to learn more about the company's advanced composite materials made with 100% renewable energy. The most popular grade of material, SuperLite, has excellent strength-to-weight ratio and is 20-40% lighter than traditional solutions.
---
Customized synthetic leather
Cotting Group

Calligram is an innovative process to customize synthetic leather intended for automotive interiors. It aligns perfectly with three of the top market trends: customization, smart surfaces and sustainability.
---
Integration and quantification of active haptic feedback
Grewus GmbH
Complex development kits are often needed to generate the desired haptic signal, especially in the field of prototyping haptic technologies.
---
IC LED 'Reverse mode' functional film sheet and light transmission decorative sheet
Elematec
At this year's expo, Elematec will present the Lextar Electronics IC LED, Kyushu Nanotec Optics 'reverse mode' functional film sheet, and light transmission decorative sheet.
---
Innovative leather manufacturing
Egas Consulting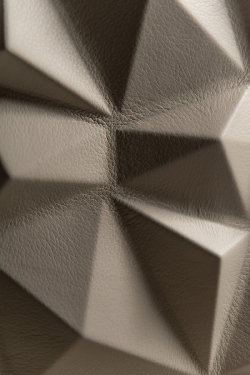 3D Leather (Pelle3D) is an innovative leather manufacturing process that makes it possible to impress a permanent 3D geometry, preserving all the visual and tactile qualities of the material.
---
Sustainable automotive coatings
Covestro

Automotive OEMs and their suppliers are on the lookout for material solutions that offer future-oriented, sustainable properties without having to compromise on performance or quality.
---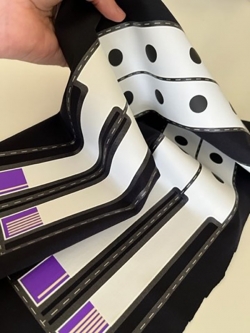 Conductive Transfers Limited will showcase its ElastaSens matrix pressure-sensing technology at its booth.
---
Bi-material injection molding for battery covers
Carbody
Carbody develops and manufactures plastic, rubber and foam products. Its engineering skills include structural analysis, and material, seal, acoustic and process development.
---
Flame-retardant textile technologies
Avocet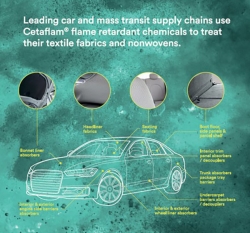 Avocet will showcase its outstanding range of Cetaflam flame-retardant textile technologies specifically tailored for the automotive and mass-transit sectors.
---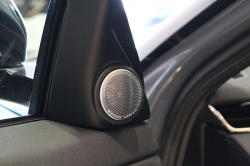 Already providing solutions to OEMs and Tier 1s across Europe, Ash & Lacy Automotive has recently invested in new technologies – specifically a new photo-etching line – that will increase its capacity to create bespoke interior components designed to enhance the aesthetics of any vehicle's interior.
---
Sputtering technologies for color coatings
Arzuffi Srl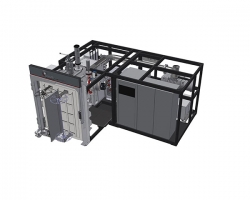 Arzuffi will proudly present the Fast-Met Roll sputtering system, which represents the evolution of the bestselling Fast-Met equipment.
---
PET foams based on 100% recycled plastics
Armacell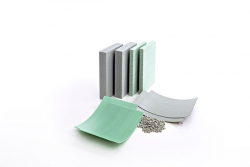 Armacell will showcase its innovative range of the world's first PET foam solutions for the automotive industry based on 100% recycled plastics. They are high-temperature resistant with processing temperatures of up to 180°C and can be recycled at the end of their service life
---
Additive technology to reduce VOCs
Aqdot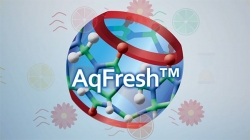 AqFresh is a revolutionary, versatile additive technology that will have a profound impact on vehicle indoor air quality.
---
Scratch-resistant surfaces and printable metal
Alanod GmbH & Co KG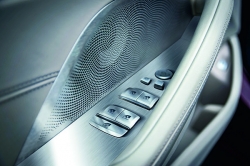 At Automotive Interiors Expo, Alanod will display its moldable, scratch-resistant surfaces for premium interiors as well as its printable metal for incomparable automotive design.
---
Glass developments for the cockpits of the future
FeelInGlass by AGC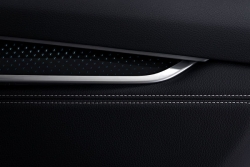 Much of an interior's character and spirit remains anchored in the feeling experienced via sight and touch. From that standpoint, designers and engineers work hand in hand to explore new ways of integrating materials and technologies.
---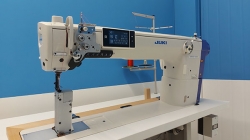 Juki Europe will showcase its PLC 2760V-7 700mm sewing machine, which has the notable advantage of sewing a complete cover in one process, due to the large underarm space
---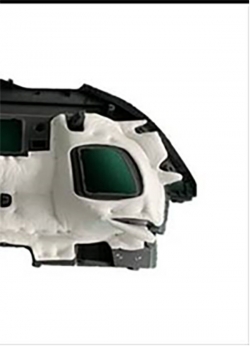 As a result of continuous research, ORV has developed a line of acoustic products – Valtherm Acoustic Performance – which meet the need for low-frequency sound absorption while also maintaining this property at high frequencies.
---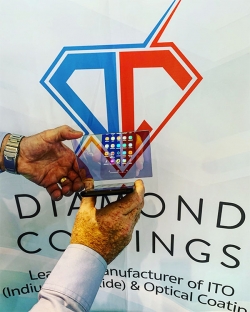 As a market leader in ITO, optical and conductive coating solutions, Diamond Coatings will exhibit its wide range of functional coatings on glass and plastics for various applications such as capacitive switches, heaters, anti-reflection, RFI shields and lidar plus many more.
---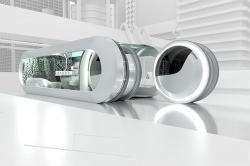 The Interior Cluster IZZI is a consortium of 18 industry partners and research institutes working together on R&D projects to develop future interior solutions. With trend analysis, workshops and networking formats, the cluster creates a framework for collaboration along the value chain.
---
Adhesive films for protection, masking and decoration
Adhetec
For more than 20 years, Adhetec has been designing, manufacturing and distributing technical adhesive films for automotive protection, masking and decoration.
---