Products on Show
Day One: Conductive Transfers demonstrates matrix pressure sensing and capacitive touch
Conductive Transfers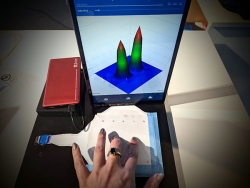 Conductive Transfers is showcasing its new ElastaSens matrix pressure sensing technology. This screen-printed technology enables thin, lightweight and cost-effective pressure map sensing solutions for seat occupancy detection and other automotive applications.

In an interview at the show, the company's commercial director, Mark Catchpole, said, "We are also demonstrating our new ElastaTouch capacitive touch sensing solution. The printed capacitive touch circuit has been transferred to an automotive-grade MacDermid XtraForm 3D polycarbonate film and then vacuum formed into a complex 3D shape while retaining circuit functionality."

Catchpole added, "Conductive Transfers and our partners have now completed the first step to creating a new high-yielding and cost-effective in-mold electronics process."

Conductive Transfers is demonstrating these exciting new technologies alongside its highly efficient ElastaTherm printed heater technology at Booth 3228.