Products on Show
Day One: Armacell displays innovative PET foam solutions based on 100% recycled plastics
Armacell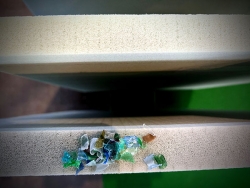 At Armacell's booth, the company is showcasing its innovative range of the world's first PET foam solutions for the automotive industry based on 100% recycled plastics.

"Our comprehensive offering of innovative eco-friendly PET foam product solutions encompasses structural and insulating foam cores, thin flexible sheets for thermoformable micro sandwich solutions and particle foams to produce 3D foam parts," said Armacell's marketing and communications manager, Belinda Birkenfeld, live at the expo.

"The company's portfolio of eco-friendly PET foam products with very low ecological footprint contains structural foam cores used in composite sandwich structures for the parcel shelf, trunk floor or EV battery undercover," she explained. "The thin flexible sheets are used for vacuum thermoformed parts such as air ducts, door water shields and roof liners. We are also displaying particle foams for the manufacturing of ready-to-use 3D-shaped foam cores for car body chassis and structural add-on parts.

"All ArmaPET products are made by Armacell's unique and patented rPET technology, enabling the production of PET foam products based on 100% recycled PET. With ArmaPET foam products, we support foam converters and part makers in the automotive industry in their endeavor to increase the use of sustainable advanced composite materials.

"Armacell is a pioneer in the field of polyethylene terephthalate (PET) technology and initiated the breakthrough of PET-based foam cores in the composite industry in 2005," she enthused. "Ever since, the company has invested significantly in the research and development of this state-of-the-art technology and developed a process technology that enables the production of PET foam products using post-consumer PET beverage bottles. In 2010, we launched the world's first structural foam core based on 100% recycled PET (rPET) plastic. Today, our entire PET foam product portfolio is based on this pioneering process technology. This patented rPET technology allows us to convert waste material into a high-quality resource and feed it back into the production cycle.

"Today, the sustainability of the individual component is becoming a relevant decision criterion in the materials selection process. The trend of designing environmentally friendly composite structures that are light, strong and recyclable has led industrial designers, specifiers and composite manufacturers to accelerate the substitution of conventional polymeric foam materials with our ArmaPET product suite," Birkenfeld concluded.

Delve deeper into Armacell's solutions at Booth 3454.