Speaker Details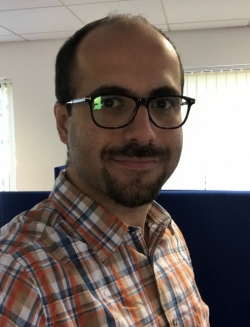 Iyad Nasrallah
Dr Iyad Nasrallah is Product Line Manager of TouchNetix's aXiom Force Sensing technology, and oversees TouchNetix's strategic haptic collaborations. He holds a PhD in Physics in Organic Semiconductor/Flexible Electronics from the University of Cambridge, and was previously a Research Fellow at Wolfson College, University of Cambridge, researching mechanically-flexible smart sensor technologies for the Internet of Things.
---
Presentation
Touch, force, hover, proximity, haptics … aXiom!
Automotive interior smart surfaces are an unparalleled space for modern HMI features to fuse together and produce a seamless, intuitive experience. This talk highlights how the aXiom product range eliminates design complexity by bringing together capacitive touch, air gestures, force-sensing and haptics into a highly configurable single-chip-solution. TouchNetix has introduced several ground-breaking innovations using these features, which have particular relevance to the automotive industry.