Speaker Details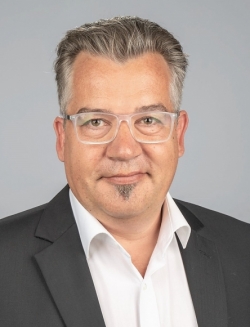 Jörg Günther
Dipl.-Ing. Jörg Günther, born 1969, studied mechanical engineering with focus on plastic technology at the Märkische Fachhochschule Iserlohn. Since 1995, he is active in the Kunststoff-Institut Lüdenscheid GmbH. In the beginning, he worked in the areas of quality management and material testing / failure analysis. He builded up the department of surface technologies and was the division head of this section until 2013. Since 2013 he is managing director of the KIMW Prüf- und Analyse GmbH.
---
Presentation
DraKo - wireless contacting of overmolded electronics
Integration of functions is an important aspect of modern control elements, among other things. One challenge is the contacting of such parts, which is necessary for power supply and data transmission. Up to now, cable or connector-bound solutions have been the state of the art. DraKo is the first solution for wireless supply control elements with touch operation and LED lighting in a molded part with energy and the ability to connect them to higher-level systems.