2022 SHOW HIGHLIGHTS
Day One: ORV Manufacturing presents its ultralight sound absorbers
ORV Manufacturing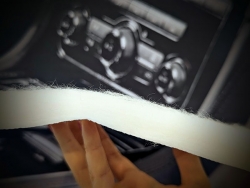 ORV is showing its innovative sound-absorbing products, suitable for trucks and cars. "Our company believes that taking part in this expo can be the best opportunity to get in touch with new prospects, in particular Tier 1 suppliers, to which ORV can supply its new products for nonwoven car components," said Alvise Bertoncello, the company's sales director.

He continued, "In particular, Valtherm Acoustic 2475 PS represents the peak of ultralight sound absorbers: it can be applied to all internal parts that could generate the 'resonance chamber effect' and that normally amplify the reverberation effect (such as the car body, trunk, ceiling, pillar and dashboard area).

"The excellent sound-absorbing insulation is perfectly suited to the e-mobility sector, allowing a significant weight reduction compared with classic foams while preserving performance, with advantages both in lightening the total car weight and in the nonwoven's longevity over time."

Speaking about the company's Sinter 17 Plus, Alvise revealed, "It is a nonwoven fabric made with FR fibers that guarantees high resistance to high temperatures, developed to cover the engine or the passenger compartment, with hydro-oil treatments applied to it. Thanks to the pre-oxidated PAN fibers (precursors of carbon fiber), it achieves excellent fire-resistance characteristics, meeting the most stringent combustion test standards."

See these solutions at Booth 3426.